The Probus Club of Port Melbourne
(Incorporated Association - A0039058N)
This website is a reference point for current members and introduces the club to potential new members.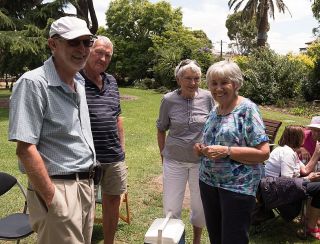 Are you retired?
Want to keep mentally alert?
Like making new friends?
Enjoy social outings?
By becoming a member of the Probus Club of Port Melbourne, you can achieve all these things!
What is Probus?
The Probus Club of Port Melbourne is one of many Probus clubs throughout Australia.
Probus is an association of retirees who seek opportunities to keep their minds active, expand their interests and to enjoy the fellowship of new friends. The name "Probus" is derived from an abbreviation of "Professional" and "Business", indicating that generally our members spent their working life in professional and business areas of activity. There are thousands of Probus clubs around the world.
The Probus Club of Port Melbourne broadly draws it's members from Port Melbourne, South Melbourne, Albert Park and Middle Park. However, Probus clubs usually do not have exact geographical catchment areas, so anyone within reasonably easy reach of Port Melbourne is welcome to apply to join. We warmly welcome both men and women to our ranks.
More information about the history and organisation of the our club can be found on the 'Our Club' page, and for more about Probus in general, visit the Probus South Pacific website.
What Happens in Probus?
Our club has an active programme throughout the year, consisting of monthly meetings with interesting guest speakers as well as outings and excursions for club members most months of the year.
To get a more detailed understanding of what happens in our Probus Club, visit the 'Typical Experiences' page for an overview of past club activities, and visit the 'Meetings & Speakers' and 'Activities & Outings' pages for information about forthcoming club activities.
Join Us
The Probus Club of Port Melbourne currently has vacancies for new members. For more details about joining, go to the 'Membership' page.